EMCS consultants have extensive experience in developing tailored solutions to meet client needs in
Emergency management planning;
Staff training; and
Exercising to ensure proper preparation for any eventuality.
Based on the comprehensive approach to emergency management of prevention, preparedness, response and recovery, we adopt a best practice approach to:
Minimise the potential for emergencies to occur;
Be ready to respond to and manage a crisis when it occurs; and
Have systems ready for implementation to ensure our client's business continuity and disaster recovery is as smooth and efficient as possible.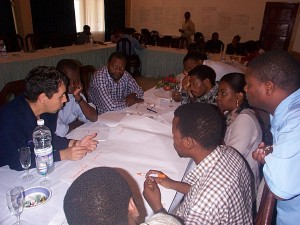 EMCS provides tailored solutions to meet a range of client requirements from broad ranging community based emergency and disaster planning to address natural disasters, through to strategic reviews of organisational capacity to manage an emergency.  EMCS can also assist the business community to plan for emergencies in the workplace, ranging from workplace injuries and evacuation to full scale business continuity management strategies and resumption strategies.
EMCS consultants have been involved in providing international assistance and capacity building through overseas aid organisations.  This has included both crisis response following major emergencies as well as strategic organisational reviews to build local capacity.