Exercise Management
This program covers the competencies to design, manage and evaluate activities, which exercise elements of emergency management.
Aim
To provide participants with sound knowledge and practical skills to design, facilitate and evaluate emergency management exercises.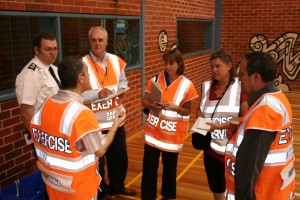 Elements
This program will expose participants to best practice skills and the latest information in the following areas:
Determine objectives
Design exercise
Manage exercise
Evaluate outcomes
Participants in this program will learn about contemporary exercise types, strategies and facilitation practices. They will also have the opportunity to design, facilitate and evaluate a full simulation exercise.There are no pre-requisites required to undertake this program, however some understanding of local emergency management arrangements is desirable.
The program can be structured to accommodate groups of any size from a minimum of 4 to a maximum of 24. It can be conducted over any duration from 1 to 3 days.